September is such a wonderful mix of the end of Summer and the beginning of Fall; the kind of month for capris and a sweatshirt (just in case).
New this week at the Digichick is a collab kit I created along with Kelley Mickus that has some really beautiful colors, the kind that really seem to sum up this season of "Not Quite Fall." We've named it Autumn Blooms and I think it's just lovely: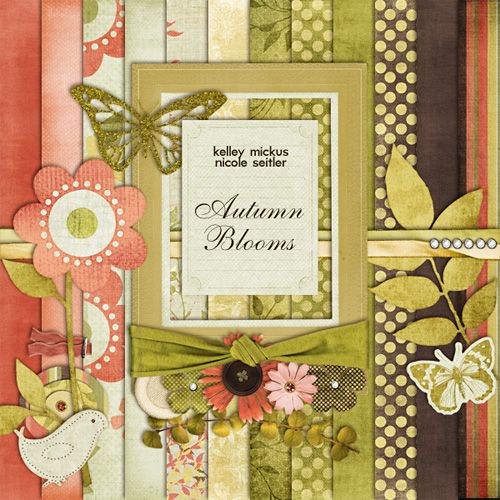 It's debuting today at the Digichick (and remember that you'll save 20% on this kit and everything else in my shop today!). Autumn Blooms contains 13 beautiful patterned papers and 24 lovely elements. Here are a sampling of beautiful layouts from my wonderful creative team! First, here's a sweet layout from THE Flergs (just click to enlarge and cycle through all the layouts):
">
Krista really, really liked this kit. She's made three layouts with it this week:
Here's a gorgeous one from Kate:
">
And here are some beauties from Amy, Crystal and Tigz:
A stunning one from Nett:
">
And these cute onesies from Jill:
And finally, I got a chance to play, too! Here's my layout:
">
Well, we hope you like our little kit! We sure had fun putting it together for you. Hope you enjoyed all the pretty inspiration as well!
Today is a big day for the Digichick! Be sure to stop by and see what all the fuss is about! There are all sorts of challenges, games and contests going on. Plus a store-wide sale!
Be sure to stop by my TDC shop and check it all out!
Happy scrapping!
You can follow any responses to this entry through the RSS 2.0 You can leave a response, or trackback.