Hello, Everyone and Happy Tuesday! Tgmousechick Kim here, with the first Sugarplum Tutorial Tuesday post of 2009. We're playing off the "Bags, Tags, and Boxes" alliteration. Good things come in small packages, they say. I say the small thing is all the better if it comes in a pretty package. Today's tutorial is designed to show you what's out there to create pretty packaging with a hybrid twist.
Digital Templates:
Digital templates work in the same manner as digital page templates. Many designers include a number of formats, including layered tiff or psd files, or a series of pngs. Simply open the papers you want to use, use a clipping mask over the template, and embellish:
Then, print, cut out , and assemble! For this box I used the Chilled Wine collab:
And here is an embellished box I made using the Fancy Box templates by my hybrid colleague, Kelleigh Ratzlaff (also available at The DigiChick). This box was made with Nicole's fabulous new collab with Flergs, called First Kiss of Spring:
After assembly, I added a couple of hybrid touches: I enhanced the glitter accents using Stickles glitter glue, and a ribbon tie.
Die Cuts:
Die cuts can be made from traditional die cut machines (available at many local scrapbook stores or some schools), or cut from electronic die cutters (Cricut, Wishblade, or Klik N Kut to name just a few). The Cricut has a cartridge that cuts a variety of boxes and tags, and design files for the other systems are available free or for a fee from a number of sites (my site of choice for my Silhouette is Paper Threads). Cutting treat bags from my Silhouette revealed my favorite hybrid trick—printing paper myself allows me to make custom double-sided paper (in my example using papers from the Plumberry Teacakes kit, with a recolored green paper). When cutting a file like the treat box, printing both sides of the paper creates a polished look.
Once the paper is printed, place the paper on the cutting mat, pull up the box (or tag) to cut, and let the blade do all of the work! Many images also include the score lines, so folding and assembling is so easy! (Just click on these to enlarge.)
Printables:
Another option for box templates is to explore the internet for printable templates. These can be easy to use—the template can be printed on one side of your paper, and the patterned paper on the other. For a project like my cube box or an envelope, the template side is on the inside and won't be seen, so score lines aren't a big deal. Still, I made the lines less obvious by turning down the opacity of the layer—anywhere from 20%-50%—just enough to remain a guide to follow. There are a couple of sites I like to visit for free printable templates: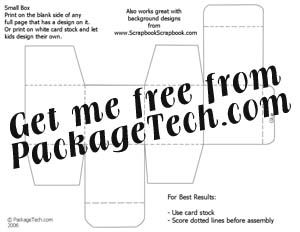 My cube box uses the template from Package Tech, using one of the floral papers from Flirty Skirty:
The procedure is similar to the previous projects—print the template, flip the paper and print the patterned paper, cut out the image, and assemble. Isn't that simple?!
You can see that there are quite a few options for cube boxes.  My cube box template actually evolved from the printable project, since I thought it would be wonderful to create a box with different sides, but it would be difficult to try to piece without a template.  If you want to create a box that uses only one paper, then a printable is a great way to go!  If you want a little more design flexibility, the template might be a worthwhile upgrade.
Finally, I'll include a couple of tag designs—these tags use A Golden Afternoon and Tag Templates from PageMaps:
Tags can give a finishing touch to packages and bags—either blank or with a simple "To/From" added. These tags are designed digitally, with all of the paper layering done before printing. I added my usual real life finishes: ribbon, brads, and flowers.
The gift-giving season may have just passed, but there are still plenty of opportunities to give a pretty gift!   Projects like these add flair to a birthday gift, a Valentine's treat, or a wedding or baby shower favor.  These projects can be completed with minimal supplies on hand, and in a short amount of time (all of my projects were completed in a couple of hours after my children are in bed).  You might want to resolve to give a prettier gift this year!
Here's a way to get your resolution off to a great start—I talked Nicole into letting me give you a freebie!!!  I paired my hybrid cube box template (the collection is available at Scrap Matters) with one of her newer kits—The Sweetest Thing mini kit that was part of her December Grab Bag.  I think this kit will be perfect for Valentines next month, so I'm whetting your appetite with this treat box:
You can grab your goodie here: The Sweetest Thing Hybrid Cube Box
Happy New Year! And Happy Crafting in 2009!
You can follow any responses to this entry through the RSS 2.0 You can leave a response, or trackback.